It is with no doubt that Ankara is a colorful African print that people from all over the world have come to embrace. Just a little addition of an Ankara piece to a cloth makes that product to e known as "African". It is a material that is one hundred percent cotton with very attractive, colorful patterns that are made using a dyeing method called batik, and has a kind of style that just wins African's heart.
As much as the Ankara personality may stand out, in reality, one has to really put a lot of thinking into this particular style in order to stand out from the crowed.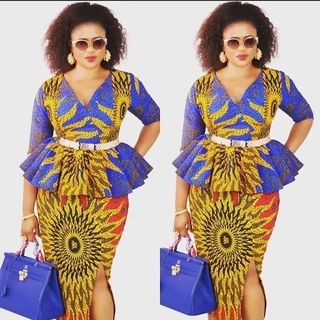 Here are some of the trendiest latest Ankara styles that you should try this year.
Also, Ankara fashion can be styled down to fit any place or event. This ranges from; church, wedding, work, red carpet, date, and anything you might think of. Let us just say that if westernized clothes never reached Africa, Ankara would have had Africans perfectly covered. Ankara fashion continues to undergo everyday improvement as many African, and even international designers have striven to make it better. It has evolved from being a traditional, free or relaxing outfit to a fitting, sophisticated, modern style. It has also qualified to be showcased in international runways like in the London Fashion Week.
Below are some of the latest Ankara styles for ladies:
Fitting short dress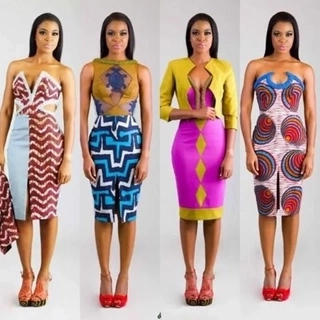 This is just a modern way of dressing in Ankara.
Ankara Kimono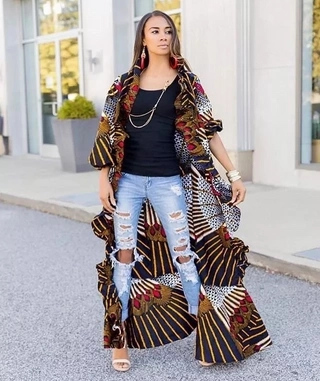 Kimono is a robe-like garment originating from Japan. Ankara designers have not been left behind in embracing this globally worn attire.Check out:
Maxi skirt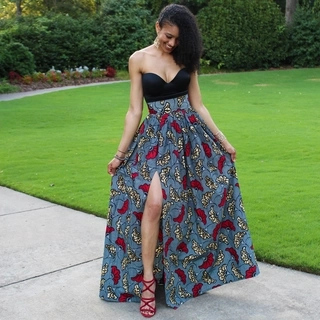 This is just a perfect, decent style. You can decide to go for a maxi skirt with a cut or one that does not have a cut.
1) Ankara styles for couples
Ankara has been used to express love among couples. It has also been used as a sign of identification among couples, for instance, if you see a male and a female wearing same fabric of Ankara, the conclusion is that they are in a relationship. At an event, when couples wear the same Ankara outfit, it just shows that they have a strong bond towards each other and not afraid to show the whole world.
2) Latest Ankara styles for teenagers
When Ankara style started, it was mainly a style for the old. As a matter of fact "kitenge" was the word being used and automatically you would know that it is a fashion for the mature. But this has evolved over the years and now it is a style for everyone. You will hardly miss anyone with Ankara in their closet. With celebrities such as Kim Kardashian and Beyoncé embracing Ankara, hence teenagers have come to embrace it too.
3) Ankara styles for men
Men are no longer wearing boring outfits. As a matter of fact, with an Ankara outfit, men are admired and viewed with style. They can range from a casual outfit to a semi-formal one. Celebrities from all over the world have been spotted wearing Ankara suits and shirts. Street style for men is coming out strongly and it's being defined by Ankara.
4) Ankara style for women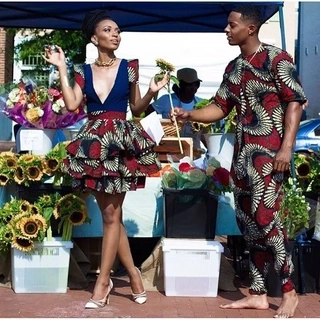 Ankara has gained its popularity among women. In fact, women have been the original wearers of Ankara.Ankara has been known to show how classy a woman is and it will even tell you their level of style, with West African women being the main people who have hugely embraced Ankara. Ankara has that queen feeling that makes a woman feel like royalty.
Modern Ankara fashion just makes a woman be able to express herself fully in their own style and be attractive at the same time
Ankara jacket styles
Ankara jackets just add a million bucks to your outfit. For a perfect modern look, it looks stylish to pair it with non-Ankara piece. Some of 2018 trending jacket are;
Ankara bomber jacket
Bomber jackets are unique and can transform a boring outfit into a fun a stylish. It can be dressed with trouser jeans, body con dress
Blazer-style tops
The blazer can be won as a top and as a jacket, and peplum style just makes it fashionable.
Berna jacket
The jacket is just so stylish and can be dressed with anything in your closet
Nebula jacket
The style is so chic. It can be thrown into any tight outfit to make it descent and stylish.
Unique Ankara styles
If you are looking for a stylish look for 2018, then you should consider these unique Ankara styles, in addition to the above.
a) Ankara Jumpsuit
You can never go wrong with a jumpsuit. This can go to parties, weddings, weekend and you can add a plain jacket.
b) Ankara skirt
If you want a simple look for weekends then this is the look to go. You can pair it up with a shirt and strappy shoes.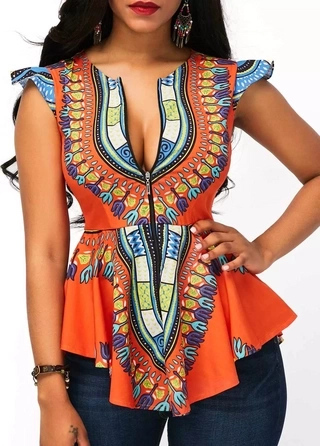 Ankara top designs
a) Asymmetrical peplum tops
Other than the above peplum tops, you can opt for the asymmetrical one