Veteran singer,
Sunny Nneji
, needs no introduction. The highlife maestro who rocked the entertainment industry few years ago with his hit single, a love ballad, 'Oruka', is one of the few respected African musicians who have been able to uphold family values with their songs despite fame and fortune. In this interview with ABIOLA ALABA PETERS, Sunny opens up on why he keeps his family out of public eye and his stand on politics.
Excerpts
You've been out of the music scene for a while, what happened?
I've actually been working and recording and in a short while you will get to hear what I have been doing.
Was your break as a result of rebranding?
Yes. You are just on point; I went to rebrand and repackage. For now my kind of music you really need to think deep before dishing out songs. I don't just do songs; I do good songs. It's not as if I've been quiet, I have been busy. I have actually been thinking of what to put out eventually. I did something a month back and it wasn't as catchy as I wanted but then I am still working and in a short while you will hear something great from me as usual.
You mentioned that you were silent because you wanted to rebrand, are you going to be working with any of the younger talents?
Oh yes I will, I've always been doing things with other artistes. I've done a song with Ice Prince, CDQ, and I am doing something with one artist now, let me not let the cat out of the bag yet.
Why? Let us know about it.
Ok, be the first to know this now, I'm doing a song with Falz and very soon you will hear it and of course I love to work with young and talented artistes.
Yes I am married. I got married in 2001; I'm married to world's most loving wife and I'm blessed with three beautiful daughters and they are all in secondary school now. My house is just me and my wife when the kids go back to school which is very boring for us.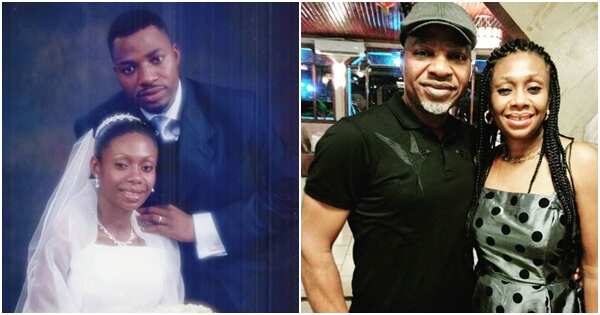 So how come we don't get to see you with her in functions or flaunting her in public?
My dear, it is always good to keep your private life private. That is why it is called private/privacy; if you make your private life public then it is no more private. It is good to have some privacy, like now, I'm in public, let them be in private so they are not disturbed or distracted. When it is time for them to be public, they will step out.
What's your advice to those who is are looking up to you?
No, nobody should be like me; be yourself, that's the best part in life. If you are aspiring to be like me, you are not original. There's can only be one me in this world, so they should aspire to be the original version of themselves. If you come into this world to be like somebody else, who will then be like you? So they should put their hope in God and believe in themselves and the sky will be their starting point.