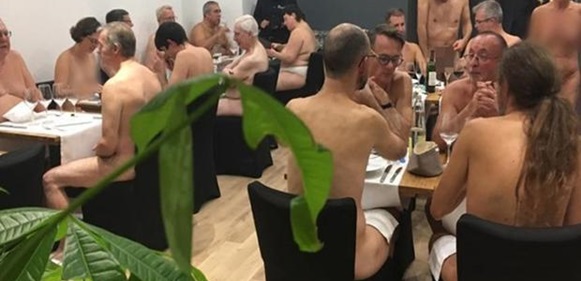 Paris' first naked restaurant has closed its doors after just 15 months in business due to a lack of customers. O'Naturel's opening in November 2017 made global headlines but,Yahoo News UK has reported that, the restaurant, has run it's course.
It was run by brothers Mike and Stephane Saada –- who, despite O'Naturel's theme, were not themselves nudists.
In a statement on the closure, they said:
"We will only remember the good times, meeting beautiful people and customers who were delighted to share exceptional moments."
France is one of the most visited countries in the world by naturists, and it has around 460 designated outdoor nudist spots across the country.
On arrival, diners were shown to changing rooms, where they could store clothes and mobile phones and cameras -– strictly banned in the restaurant -– in lockers.
Guests were also given a pair of slippers, though women could leave heels on if they wished.