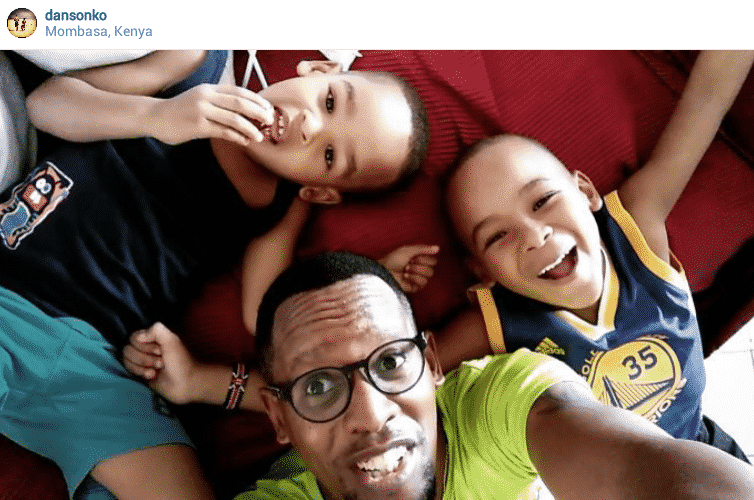 A Kenyan actor, Dan Sonko has spoken out for the first time after moving on with another woman following his wife's death.
He is currently dating a fellow actor Winfred Bwire, who is his late wife's best friend.
His wife passed away in 2017 after giving birth to their second child as she slipped into a coma. Her body was unable to create any platelets following weak brain signals to the rest of her organs. She was rushed to the Intensive Care Unit (ICU), where she passed on while receiving treatment.
In an interview with Massawe Japanni of Radio Jambo on Monday, February 24, Dan stated that he was the one who made a move on Winfred and it took time for her to accept his request.
The father of two also revealed that he took off his wedding ring years after Dru passed on to start a relationship with Bwire and that they have been together for five months now.
Taking to his Facebook page today, he shared a link to the interview, describing it as 'extremely hot and sensitive'
"I Loved yesterday's interview on Radio Jambo.
The topic was extremely hot and sensitive. The questions were hard hitting and precise. All in all, when one let's God in and speaks from the heart, everything comes out with razor sharp clarity.
If you have no idea what I'm talking about, check out the link below.
Na wale wa makasiriko, tutawaombea tu." he wrote.
On her part, Bwire revealed that they were friends before he met his wife Dru.
"I KNEW DAN THROUGH THE ACTING INDUSTRY AND HIS WIFE (DRU) WAS MY BEST FRIEND. HE DIDN'T MOVE ON FAST AFTER LOSING HER. I DON'T THINK I'VE BETRAYED HER BECAUSE WHEN SHE WAS STILL ALIVE I NEVER HAD ANY ROMANTIC RELATIONSHIP WITH HER HUSBAND. I ALSO NEVER THOUGHT HE WOULD BE MY LOVER AT ANY POINT IN LIFE BECAUSE HE HAD A FAMILY AT THAT TIME" she stated.
The actress also said that she's in good terms with Dan's children.
"MY RELATIONSHIP WITH HIS KIDS IS GOOD AND HIS FIRSTBORN KNEW ME FROM WAY BACK. DAN HUWA ANAMKUMBUKA MKEWE LAKINI HUWA NAMPA HIMIZO [DAN KEEPS ON THINKING ABOUT HIS WIFE BUT I COMFORT HIM]" She added.
Bwire also shared link to the interview.
"Thank you so much for having us RADIO JAMBO Massawe Japanni
Greatest lesson I took home- Do you…
Your Happiness comes first. People will give their opinions on all matters life but at the end of the day it's yours that counts.
Dear Human,
If it puts a smile on your face- GO FOR IT!!
If it helps you sleep better at night – GO FOR IT!!!
If it makes you feel ZEN- Damn it!! GO FOR IT!!!
Just GO FOR IT!!!" She wrote
Meanwhile, Dan Sonko once told off a fan who said he has moved on so fast after losing his wife. The fan identified as Miss Kahacho, who claimed to have known Dru wrote;
"I think you have moved on so fast…I miss your life"
Dan responded saying:
"I USUALLY IGNORE SUCH COMMENTS BUT I WILL JUST MENTION THAT AS MUCH AS YOU BE ENTITLED TO YOUR OPINION, THERE ARE AREAS THAT YOU HAVE NO JURISDICTION… MATTERS OF GRIEVING ARE DIFFERENT AND UNIQUE TO EVERY INDIVIDUAL. I LOVED DRU DEARLY AND IT HAS BEEN OVER 2 YEARS NOW.
"IF THE TIME IS SHORT FOR YOU, THEN MAYBE WHEN YOU GO THROUGH A SIMILAR ORDEAL, YOU CAN CHART YOUR OWN PATH. INTERESTING THAT YOU SAY YOU MISS HER YET WE DON'T EVEN KNOW YOU…BUT THAT IS BESIDE THE POINT. I HAVE MOVED ON AFTER I HAVE MADE WHAT MATTERS MOST. BE WELL, BE BLESSED AND DO YOU."