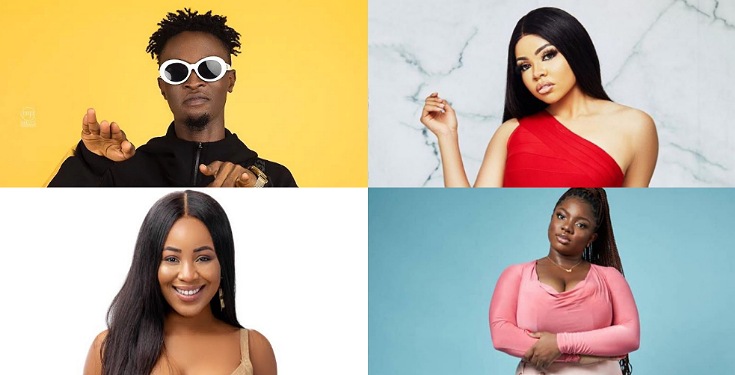 According to Google search trends, Laycon has generated the most-searched interest online among housemates of the ongoing BBNaija 2020 edition.
In a statement released on Thursday, August 20, Google revealed that Laycon generated the most searched interest on Google search engine followed by Nengi and Erica in that order.
Other housemates that generated most search interest after Laycon, Nengi and Erica are – Ka3na, Dorathy, and Kiddwaya.
Below are the six (6) most-searched BBNaija 2020 housemates;
1. Laycon
2. Nengi
3. Erica
4. Ka3na
5. Dorathy
6. Kiddwaya
Laycon
His appearance on the show has hyped his music career, thereby increasing searches for his EP (Who Is Laycon?), with "Laycon songs" the second most-searched term related to his name (after "Laycon" itself). The next most popular Laycon-related term is "Laycon BBNaija biography", variations of which appear on all the contestants' top searches.
Nengi
For the beautiful 22-year-old, one of her notable top searches is "nengi and ozo", following the pair's on-screen romance.
Erica
Just like Nengi and Ozo, the chemistry between 26-year-old Erica and Kiddwaya, her love interest, has made "Kiddwaya and Erica" emerge as one of her top search terms.
Speculations are rife that although evicted, Ka3na's making out with Praise might have sparked off the high searches attached to her name. While Dorathy became a sensation after news flew around that she's gifted with heavy oranges, Kiddwaya began trending owing to his Billionaire-Dad status and entanglement with Erica.
And while Laycon may have generated the most search traffic overall, Erica secured the biggest search spike. Given that Kiddwaya was also a hot search and was attached to her name due to their "ship" in the house, it's most likely that their "entanglement" sparked this interest.
Search By Region
Regionally, Erica has drawn the most interest from Borno province and Lagos, while Laycon is a firm favourite in Adamawa, Taraba, and several other provinces. Dorathy rules Kwara while Nengi generates the most searches in Bayelsa and Edo.
With more weeks remaining for BBNaija 'Lockdown' show to come to an end, there's likely to be a lot more drama, which will have a major impact on searches around the show. However, all fingers are crossed at the moment as we watch out for more unfolding drama in the house.
News Credit – Pulse NG | The Cable