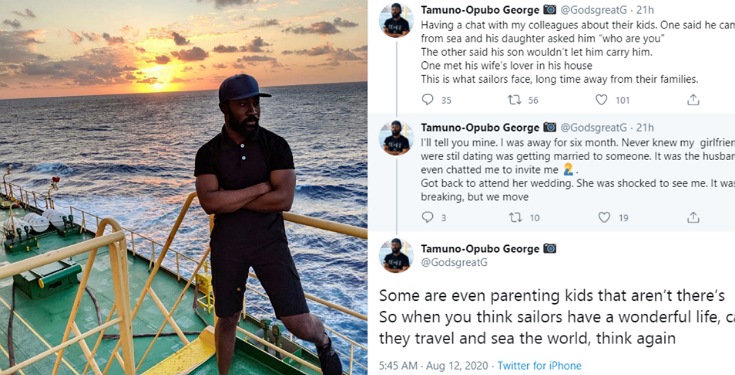 A Nigerian sailor with the handle @GodsgreatG has recounted some of the challenges they face while being away from their spouse and loved ones.
The young man recounted how his girlfriend got married to someone else while he was away. He also disclosed some of the challenges his colleagues face when they reunite with their families.
He tweeted;
"Having a chat with my colleagues about their kids. One said he came back from sea and his daughter asked him "who are you" The other said his son wouldn't let him carry him. One met his wife's lover in his house This is what sailors face, long time away from their families.
I'll tell you mine. I was away for six month. Never knew my girlfriend that we were stil dating was getting married to someone. It was the husband that even chatted me to invite me.
Got back to attend her wedding. She was shocked to see me. It was heart breaking, but we move
Some are even parenting kids that aren't there's So when you think sailors have a wonderful life, cause they travel and sea the world, think again"