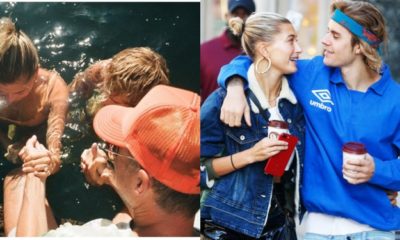 American singer, Justin Bieber has shared intimate photos showing him being baptised with his wife, Hailey Baldwin Bieber.
The 26-year-old singer shared a series of photos to his Instagram account on Aug. 5, showing him and his 23-year-old wife in a pool while holding on to their pastor's hand.
It's unclear when the ceremony took place, but the two have been legally married since Sept. 13, 2018, with a formal wedding coming just over a year later on Sept. 30, 2019.
Bieber captioned the photos: "The moment @haileybieber my wife and I got baptized together! This was one of most special moments of my life. Confessing our love and trust into Jesus publicly with our friends and family."
For the ceremony, Hailey wore a two-piece orange coloured bikini while Justin Bieber wore only shorts. More photos below….