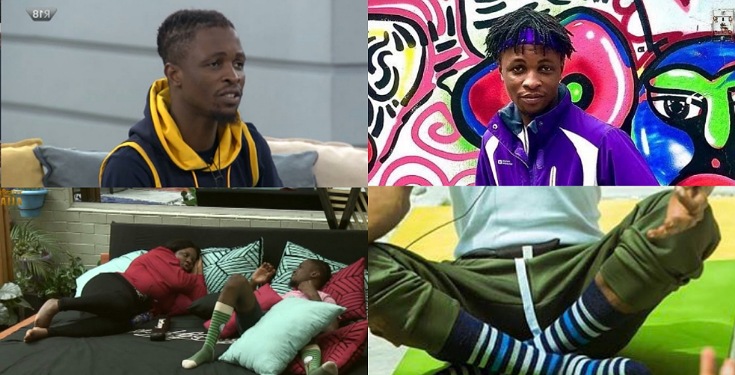 BBNaija lockdown housemate, Laycon has revealed that his genotype is SC, stating it's the reason he's always on hoodie and lengthy socks.
Severally, the dread-locked rapper has been mocked by trolls who are ignorant of his health status.
Disqualified housemate, Erica had also said he looks like bones and would die before 50. With this revelation, viewers are guessing Laycon might have earlier disclosed his health status to her.
The fast rising rapper made this revelation during a discussion on blood group and genotype with other housemates in the BBNaija house last night.
In a shocking revelation, Laycon whose real name is Olamilekan Agbeleshe disclosed that SC is his genotype, which means he's a sickle cell sufferer, even though SC has mild anaemia.
He added that this is the more reason why he wears hoodie and long socks all the time as shield from cold.
After schooling the rest of the housemates to better understand that SC is a sickle cell genotype, Laycon then added that his own is dormant and he doesn't get sick all the time.
According to Wikipedia, The hemoglobin (Hb) SC genotype is seen in persons who have inherited the gene for hemoglobin S from one parent and the gene for hemoglobin C from the other. Some people with this genotype develop Hb SC disease, a variant of sickle cell disease.
Sickle cell disease (SCD) is a group of blood disorders typically inherited from a person's parents. The most common type is known as sickle cell anaemia (SCA). It results in an abnormality in the oxygen-carrying protein haemoglobin found in red blood cells.
Below are some reactions fetched from Twitter;
Watch video below;