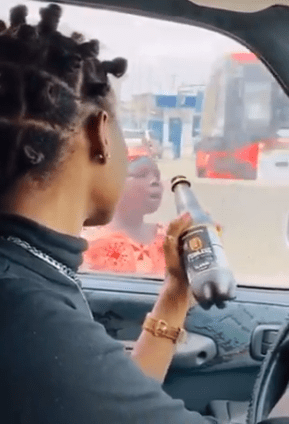 Nigerian Twitter is currently on fire after a video surfaced online which showed "Wanna-be" Twitter influencer, Motara, enticing a poor child beggar with a bottle of drink only to leave her hanging.
The said video surfaced moments after she posted an alleged story of her family struggles and how her mum hawks to cater for the family even till now.
In the video, Motara is seen driving in traffic when a child beggar walks up to her window to beg.
Motara poses with her bottle of drink, asking if the child wants to drink and she nods. With the window still up, Motara places the mouth of the bottle near the girl's mouth.
As the car start moving, the girl runs after Motara's car, hoping for the drink, but she continues to use the drink to raise her hopes without actually giving the child the drink or even money as she claimed she did afterwards.
She ends up laughing at the child before gulping down the drink and driving off.
Motara shared the video on her WhatsApp status then took it down, but it had already been captured by others and it went viral.