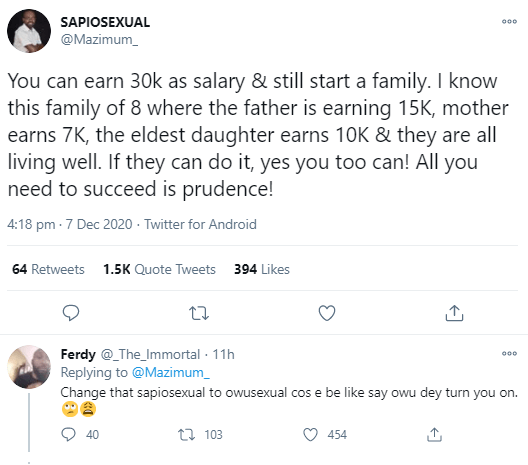 A Nigerian man got more than he bargained for as he has been called out after he tweeted in support of marrying on a 30K salary by using a married father of 8 who earns 15K as an example.
@Mazimum_ tweeted:
"You can earn 30k as salary & still start a family. I know this family of 8 where the father is earning 15K, mother earns 7K, the eldest daughter earns 10K & they are all living well. If they can do it, yes you too can! All you need to succeed is prudence!"
But Nigerians were not here for it so they slammed him.
One Twitter user worte: "Change that sapiosexual to owusexual cos e be like say owu dey turn you on."
Another said: "What sort of nonsense advice/write up is this? E be like say na ment… imagine teaching someone how to suffer."
See more reactions below.